Expert Interview Series: Kathy Browning of The Cheap Gourmet discusses preparing affordably-priced, delicious meals
Kathy Browning is an award-winning food blogger and founder of The Cheap Gourmet. Her accolades include being a Featured Food & Wine Contributor for Yahoo!; authoring two non-fiction books and one cookbook; and attempting to break the record for...
Kathy Browning is an award-winning food blogger and founder of The Cheap Gourmet. Her accolades include being a Featured Food & Wine Contributor for Yahoo!; authoring two non-fiction books and one cookbook; and attempting to break the record for World's Largest Bake Sale for two consecutive years.
We recently caught up with Kathy to talk about her cooking philosophy, meal planning, and some of her favorite dishes.
Why did you decide to start The Cheap Gourmet?
The Cheap Gourmet was initially created to share recipes with friends and family after we relocated to another state. As a professional copywriter and SEO consultant, I was able to obtain high search rankings and soon had a loyal following. Today, the blog includes recipes, menu planning tools, cooking reports, restaurant and product reviews, and cooking contests.
How would you describe yourself as a chef, and who or what has influenced how you cook?
I am passionate, curious, and a risk-taker. I was born with a passion for cooking, as I come from a line of women who were amazing home cooks. My mother and aunt strongly influenced how I cook. I also worked with great chefs who shared their culinary training and introduced me to techniques, equipment, exotic foods and cooking with spices. The Food Network has been very influential in how I cook and has encouraged me to try new things and take risks. One thing I have learned is the biggest mistakes often result in a new culinary sensation.
Is it really possible to prepare sumptuous home-cooked meals and save money in the process?
Absolutely! Meal planning can save everyone a lot of time and money. If you're fortunate enough to have a local farmers market, you can extend the savings further. Not only will you have fresh produce for the week, but you'll likely save upwards of half the cost as compared to grocery stores. Also, take advantage of coupons and rebates, watch sale ads, and consider shopping at wholesale clubs.
For instance, I purchase frequently-used items such as dried spices, pasta, nuts, and baking supplies in bulk. While there is the initial funding, buying in bulk saves my family hundreds of dollars annually. I also have a deep freezer, so I stock up when freezable items are on sale. A food sealer is a great gadget to have on hand because it allows you to freeze items for longer periods of time, as well as to preserve leftovers.
What are some of your family's favorite evening meals?
My family loves soups and casseroles, so there's always at least one of each on the weekly menu. We also enjoy grilling, so steaks, ribs, burgers, and fish are weekly favorites too. During the summer months, we enjoy fresh garden salads and lighter fare.
What dish or meal can you easily prepare in your kitchen that is often perceived as being difficult or extravagant?
In 2010, I submitted a Greek Feast Dinner Menu for a cooking contest. Although I didn't win, this has become my favorite meal to prepare for family and friends. It consists of a Greek salad, cheese and honey Filo rounds, garlic and rosemary lamb chops, and roasted green beans with cherry tomatoes and onions.
The cheese and honey Filo rounds are always a big hit and they are easy to make. Here's what you need:
Ingredients:
8 sheets refrigerated Filo dough, cut into quarters
4 ounces Pecorino-Romano cheese, finely grated
1/4 cup Extra Virgin Olive Oil for basting
1-1/2 tablespoons honey
Directions:
1. Preheat oven to 350 degrees Fahrenheit.
2. Place Filo dough on large cutting board. Carefully cut sheets into quarters and stack into a pile.
3. Use 2 sheets of Filo dough for each cheese-stuffed round. It is important to work quickly so the dough doesn't dry out.
4. Place 2 sheets of dough on cutting board and lightly brush with olive oil. Place 1/2-teaspoon of cheese near the end of the square. Gently roll and lightly baste with olive oil. Carefully roll one end toward the center to create a snail shell.
5. Place on baking sheet and lightly baste each round before placing in oven.
6. Bake for 12 to 14 minutes, or until light golden brown.
7. Remove from oven and immediately transfer to serving platter. Drizzle with honey. Serve at room temperature.
Find the entire Greek Feast menu here.
What are some of your kids' favorites desserts or treats that they're always asking you to make for them?
Cherry cobbler, chocolate covered peanut butter balls with bacon, potato chip cookies, and orange vanilla chocolate chip cookies.
Picture this: one afternoon, you've been told that your presence is expected at a gathering or potluck dinner that very evening - and you have to bring something with you. What type of food or snack can you whip up on a moment's notice?
My go-to potluck dinner item is my mom's infamous mustard potato salad with bacon. Mom's secret is using stone ground mustard and adding a tablespoon (or two) of bacon grease. She used Idaho potatoes, but I prefer new red potatoes. Regardless of the spud, this recipe is always a crowd-pleaser and it's the number one item people request for potlucks.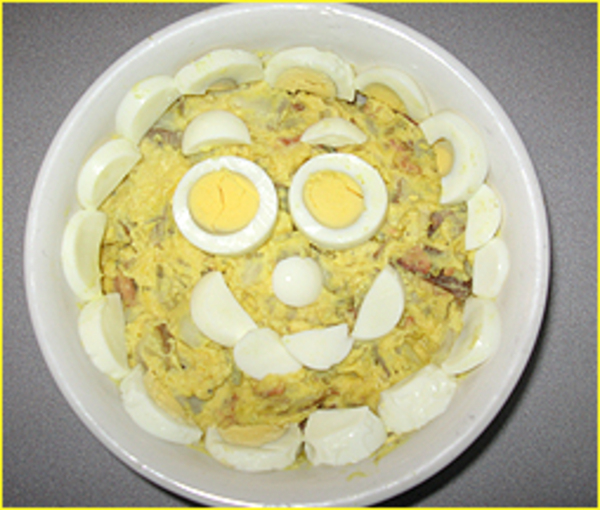 It's obvious that you try not to overspend on ingredients for your meals. Do you apply that same philosophy to the tools and utensils you use in the kitchen?
While I always look for a good deal on tools and utensils, I don't scrimp on quality items. After spending nearly two decades in commercial kitchens, the one thing I took away was having the right equipment can make the job much easier and less time-consuming.
What kitchen items do you use that you couldn't live without?
My KitchenAid stand mixer, food processor, and cheese grater.
If someone were to buy you a gift for the kitchen and money was no object, what would you want?
There are a few items on my "luxury" list that I hope to own one day. The first would be Mauviel Copper Cookware. In my opinion, this is the epitome of exceptional cookware and the quality cannot be matched. Mauviel also has a copper double boiler that I would love to have during the holidays when I make homemade chocolates.
Two other items on my wish list are a Sous Vide water oven and a set of knives from either Wusthof or Messermeister.