Thought Leader Series: Take Your Summer Salads to the Next Level with Fresh Herbs
Allison Ruth is a food writer and photographer who dishes up the most delicious food every day on her food blog, Some the Wiser. A great summer salad can be so much more than just iceberg lettuce and a...

Allison Ruth is a food writer and photographer who dishes up the most delicious food every day on her food blog, Some the Wiser.
A great summer salad can be so much more than just iceberg lettuce and a few tomatoes. Adding fresh herbs is an easy way to take your salads to the next level. Not only are fresh herbs easy to come by, there are so many varieties and flavors that can enhance the taste, texture, and even nutritional value of a salad.
Salads give you a chance to add a little of this and a little of that.
Varieties of Herbs to Add to a Salad
Any herb that's edible can be used in a salad. That being said, there are some herbs that work better in a fresh salad. Woody herbs, like sage and rosemary, have excellent flavor but their texture makes them more difficult to use in a fresh salad. Instead, save the woodier herbs for cooking and stick with tender herbs, like mint, dill, cilantro, parsley, basil, and tarragon for tossing into the salad bowl.
To prepare tender, fresh herbs for a salad, rinse them and pat them dry with a paper towel. Pull the leaves from the stems and add them whole or chop them before tossing them into the salad bowl. In most cases, leaving the herbs whole adds a fresh note to greens, which makes heavy salad dressings unnecessary.
How to Pair Herb Flavors in a Salad
Most varieties of lettuces, while delicious and nutritious, don't have overpowering flavors and some are actually quite bland. The best fresh, green salads are a mix of diversified flavors, with lettuces and herbs blended together.
The best way to find herbs that you'll enjoy in your favorite salads is to experiment. Start by picking some of your favorite herbs and tossing them into a simple lettuce blend. Taste the flavors together and find the combinations you like best. With fresh herbs and greens, it really can be that simple to make a flavorful, delicious salad.
Here are a few herb and salad combinations to get started:
Fresh Mint with Cucumbers and Red onions
Mixed Greens with Tarragon
Boston Lettuce with Fresh Basil Leaves
Romaine with Fresh Dill and Celery
How to Add Fresh Herbs to a Salad
Really, it's hard to go wrong when you're adding flavorful, fresh herbs to a bowl of lettuce greens. Still, when you're throwing together a simple summer salad, you want to add in the burst of flavor that fresh herbs offer without overpowering the entire salad.
Start by adding a few teaspoons to an individual salad, or a few tablespoons to a large salad bowl. Taste it and if you can taste the fresh basil's peppery twist or the delicate anise flavor of fresh tarragon alongside the salad greens, then your salad is heading in the right direction. Your taste buds will let you know if you need to add another tablespoon or grab the vinaigrette and get started.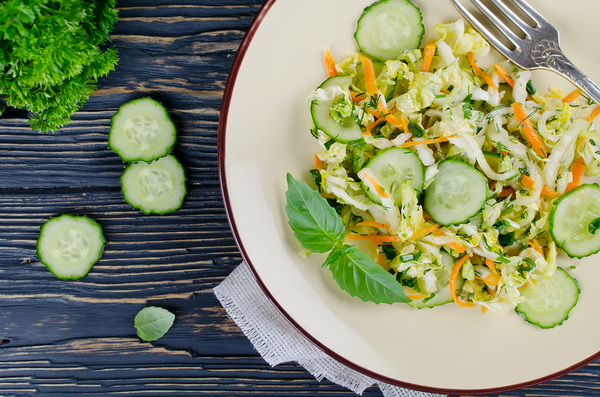 Room-brightening colors.
This Napa Cabbage Salad is a perfect example of how adding fresh herbs can elevate a simple salad. Instead of a heavy mayonnaise dressing like most cabbage slaws are slathered in, this Cabbage Salad relies on the flavor of fresh cilantro to keep it light and make it shine.
Napa Cabbage Salad with Fresh Cilantro
Ingredients
¼ cup rice vinegar
2 teaspoons honey
1 teaspoon grated peeled ginger
2 tablespoons grapeseed oil
1 small cucumber, sliced
1 small carrot, grated
1 small head Napa Cabbage (about 1 ½ pounds) cored and cut crosswise into slices
1 bunch scallions, sliced
½ cup coarsely chopped cilantro
Directions
In a small bowl, whisk together the vinegar, honey, ginger, oil, chile and a pinch of salt. In a salad bowl, combine the remaining ingredients. Toss with the vinegar mixture. Let stand, tossing occasionally, for 10 minutes before serving.
Whether it's fresh basil in your potato salad, market greens with fresh mint, or a cabbage coleslaw made tastier with fresh cilantro, herbs are the secret ingredient to the most delicious salads. Browse our cookware for helpful tools to make your time in the kitchen even easier.